Guardian
Glenn Greenwald
"'The problem is that once the initial explosion goes off, many people will believe that's it, and will respond accordingly,' [the Heritage Foundation's Jack] Spencer said … The goal is to 'incite more terror. If there's an initial explosion and a second explosion, then we're thinking about a third explosion,' Spencer said."
"A van draws up next to the wounded man and Iraqis climb out. They are unarmed and start to carry the victim to the vehicle in what would appear to be an attempt to get him to hospital. One of the helicopters opens fire with armour-piercing shells. 'Look at that. Right through the windshield,' says one of the crew. Another responds with a laugh.

"Sitting behind the windscreen were two children who were wounded.
"After ground forces arrive and the children are discovered, the American air crew blame the Iraqis. 'Well it's their fault for bringing kids in to a battle,' says one. 'That's right,' says another.
"Initially the

US military

said that all the dead were insurgents."
"On several occasions, the Apache gunner appears to fire rounds into people after there is evidence that they have either died or are suffering from debilitating wounds. The rules of engagement and the law of armed combat do not permit combatants to shoot at people who are surrendering or who no longer pose a threat because of their injuries. What about the people in the van who had come to assist the struggling man on the ground? The Geneva conventions state that protections must be afforded to people who 'collect and care for the wounded, whether friend or foe.'"
"Yusufzai, who reported on the attack, says those killed in the follow-up strike 'were trying to pull out the bodies, to help clear the rubble, and take people to hospital.' The impact of drone attacks on rescuers has been to scare people off, he says: 'They've learnt that something will happen. No one wants to go close to these damaged building anymore.'"
"Asked for documentation of Tariq and Waheed's deaths, Akbar did not provide pictures of the missile strike scene. Virtually none exist, since drones often target people who show up at the scene of an attack."
"At least six militants were killed when US drones fired missiles twice on Sunday in North Waziristan Agency.
"In the first strike, four missiles were fired on two vehicles in the Mana Gurbaz area of district Shawal in North Waziristan Agency, while two missiles were fired in the second strike at the same site where militants were removing the wreckage of their destroyed vehicles."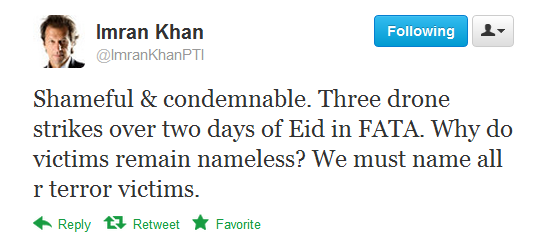 That, however, is precisely what he is, as this mountain of evidence conclusively establishes.
Help Us Transmit This Story